BLACKCURRENT CENTRE
7PM, FRIDAY 30TH JUNE 2023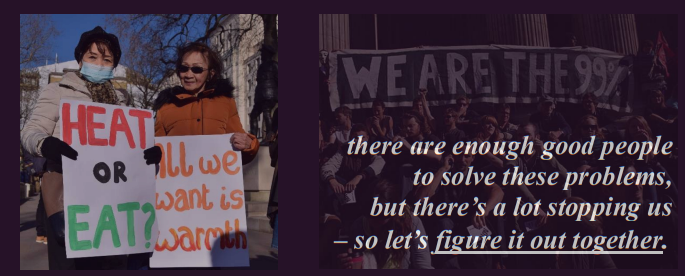 We can barely afford to live, if we don't unite it will only get worse.
But together we can take action and meet our own needs.
——————–
ideas for discussion:
•Cost of living crisis
•Climate change still ignored by Government
•Poor quality housing
•Landlords evict without reason
•Police violence getting worse
•Covid death toll was avoidable
•Unjust wars
•Strikes and protest being outlawed
•Vulnerable people are getting left behind
•NHS is being destroyed
there are enough good people to solve these problems – so let's figure it out together.
——————–


BLACKCURRENT CENTRE
7PM, FRIDAY 30TH JUNE 2023
We will discuss problems & fears, and actions we can take together.
The goal is to become familiar with eachother so we can build trust and work from there.
BC is working to be a safe and inclusive space, and we welcome everyone to help with this.
We will aim to support the needs of anybody present, such as by seeking local translators if English is not your first language. We can figure out other ways to communicate if you find group settings challenging, or if you cannot access the building through disability, we could arrange online participation.
Blackcurrent Centre*,
24 ST MICHAEL'S AVENUE, NN1 4JQ
——————–
*please contact info@blackcurrent.uk to set up remote attendance or other support.
——————–
tea & coffee will be available, but please feel free to bring your own refreshments.